Join the GistAfri VIP Club, Sign Up for the Latest Gist and more.
Facebook says it has launched "My Digital World", a programme designed to equip the youths in Africa, including Nigeria with skills needed to navigate...
Adeyinka Akintunde Bayern Munich are now winners of the 2019/2020 UEFA Champions League, after beating Paris Saint German 1-0 in Lisbon, Portugal on Sunday night. Kingsley...
Against the background of the Ministerial Performance Review carried out few days ago, financial and economic pundits who have followed events within the nation's...
The Nigeria Centre for Disease Control (NCDC) at midnight on Monday said that the death...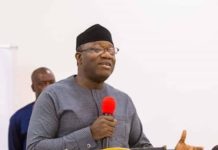 Ekiti State Governor, Kayode Fayemi, has disclosed that tertiary institutions will be reopened to students...
The Nigerian Railway Corporation (NRC) says motorists in Lagos State need extra care at level...
The National Films and Video Censors Board (NFVCB) and the Lagos State Government have agreed...
The Pan Niger Delta Forum has called on President Muhammadu Buhari to revisit the 2014...
Nigeria has announced the appointment of four new permanent secretaries for the federal civil service. According...
The candidate of the Peoples Democratic Party (PDP), in the Edo governorship election, Gov. Godwin...
Vice President Yemi Osinbajo will depart Abuja on Tuesday for Accra, Ghana, to attend an...
APC Consolidation Group, a group in the ruling All Progressives Congress, APC-CG, has described Nigeria's...
Following its loss in the last year Governorship and Kogi West rerun senatorial election, the...
Justice Ahmed Mohammed of the Federal High Court, Abuja, on Wednesday, adjourned to October 14,...
Veteran Nollywood actor, Jimoh Aliu has been confirmed dead. The thespian was said to have...
The Imo state government yesterday set up an enforcement team to stop motorcycle operators from...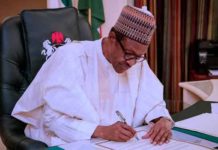 Bolaji Ogundele, Abuja The Presidency has debunked assertions that the President Muhmmadu Buhari-led administration has divided...
Rev. Dr. Felix Omobude, National President of the Pentecostal Fellowship of Nigeria (PFN), has charged...
AA –              Edemakhiota Godwin Osaimiamia ADC –              Mabel Akomu Oboh ADP –              Ibio Lucky...
The Trade Union Congress of Nigeria has given the Federal Government a seven-day ultimatum to...
The Inspector-General of Police, Mr Mohammed Adamu, has ordered the restriction of vehicular movement in...
The National leadership of Labour Party (LP) on Saturday called on President Muhammadu Buhari to...
Ahead of the September 19 governorship election in Edo State, the Inspector General of Police,...