Join the GistAfri VIP Club, Sign Up for the Latest Gist and more.
Facebook says it has launched "My Digital World", a programme designed to equip the youths in Africa, including Nigeria with skills needed to navigate...
American heavyweight Charles Martin is ready to step in for Anthony Joshua if the Brit's knee injury rules him out of the Kubrat Pulev...
The Federal Government has disclosed that the switch over from analogue to digital broadcasting when completed will rake in $1.1 billion in revenue and...
The Minister of Justice, Abubakar Malami, has denied shielding from trial the 10 soldiers who...
The Ondo State Government has described as ludicrous a recent claim by one of the...
A talented make-up artist has shared an Incredible transformation of herself. The young woman recently went...
President Muhammadu Buhari has approved renewal of the appointments of 12 non-career ambassadors, assuring Nigerians...
The Peoples Democratic Party on Thursday commenced the screening of aspirants seeking to contest the...
The Kaduna State Government says its Social Protection Policy is designed to rescue about 84.9...
The World Health Organization on Friday urged countries hit by serious coronavirus outbreaks to "wake...
The Attorney-General of the Federation and Minister of Justice, Mr Abubakar Malami (SAN), said on...
The Deputy Vice Chancellor (Academics) of the Benue State University (BSU) and Vice Chairman of...
Former Vice-President Atiku Abubakar has carpeted the All Progressives Congress (APC) for linking him with...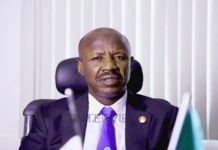 The Peoples Democratic Party has demanded the prosecution of the suspended Acting Chairman of the...
The United States Department of Justice, Central District of California, Friday said Ramon Olorunwa Abbas,...
No fewer than 201 health workers have tested positive to Corona disease since the outbreak...
Tony Akowe, Abuja The House of Representatives has warned government agencies and senior government officials not...
Gbade Ogunwale, Abuja THE Peoples Democratic Party (PDP) has called on the acting Chairman of the...
Robert Egbe The Federal Competition and Consumer Protection Commission (FCCPC), yesterday, arraigned a plastic surgeon, Dr....
The Ogun state police command says it has gathered an intelligence report which reveals that...
The Lagos State Government has said worship centres would remain closed in the state. Governor Babajide...
Former Governor of Ekiti State, Ayodele Fayose, said on Sunday that President Muhammadu Buhari was...
Bolaji Ogundele, Abuja THE Presidency has described some online contents linking Vice President Yemi Osinbajo to...