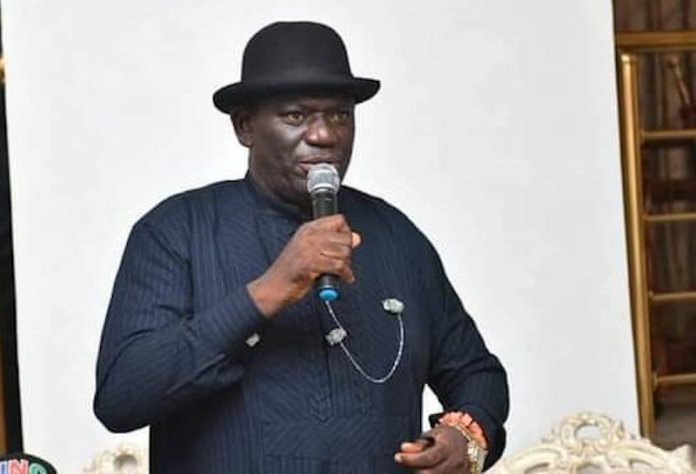 The President of the Ijaw National Congress (INC), Prof. Benjamin Okaba, has described the outbursts of the Governor of Rivers State, Nyesom Wike, as unfortunate, adding that his 'erratic comments' show that "those who ordinary should be in the psychiatric hospital are in the corridors of power."
Okaba, in an interview in his office in Yenagoa, Bayelsa State, stated that when a man quarrels with virtually everybody in the country, it shows that he is either influenced by alcohol or ungodly spirit.
He said the INC has made their position clear on the issues of the arrest of the member of the House of Representatives, Farah Dagogo, saying due diligence should be followed in the case.
According to him, "I think we have made our position very clear, which iås that due diligence should be applied in addressing the issue. The utterances of the governor of Rivers State before the arrest clearly portray some elements of victimisation."
"It is a political victimisation of power, because as we speak, court processes are on but pronouncements are still going on-calling him a criminal that invaded the House of Assembly premises.

"They should have taken advantage of the amnesty granted him; all these are clear indications that the governor was addressing what seems very personal to him on a public issue and that's where the INC feels disappointed.
"Well, on the question of the government outbursts that 'thunder fire INC and IYC', those again we don't consider very seriously because by making such very careless and unguarded utterances in a place that is supposed to be sacred-in a church-it tells you how backward we are as a country where people who should have ordinary been in a psychiatric hospital are occupying the corridors of power.
On the next step to be taken, Okaba said the INC has meet with the families of Dagogo, and has put together a legal team that is already under-studying the process where appropriate action would be taken soon.
Okaba, who equally spoke on the threatening insecurity in the South-south region, said the Ijaw people have raised the 'Red Alert', for every Ijaw man to be security conscious.
He said: "We raised what we call 'Red Alert', and for us to be security conscious, the intelligence we have gathered so far clearly state that urgency,  and as I speak, we are already taking steps because the Ijaw people cannot remain in a place and allow hoodlums in any guise to come in and misbehave.
"Nobody should take our friendliness and hospitality for granted. In the history of the Ijaw nation, we have never been conquered, and we trust the Almighty God who gave us this place, he will help us to defend ourselves and our territory, but nobody should take sleep.
"Traditional rulers, heads of community and politicians should begin to reengineer our traditional indigenous security apparatus, we cannot be sleeping while our land is being systematically taken over, and that is the message."