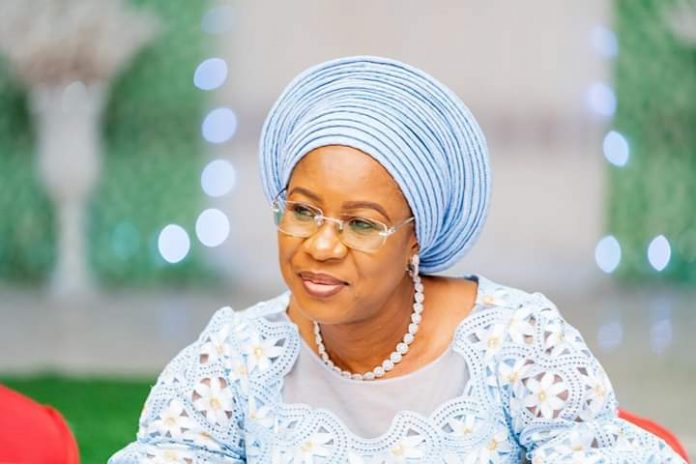 Dame Edith Okowa, wife of Gov. Ifeanyi Okowa of Delta, has offered free eye care services to the people of Delta South, through her pet project "05 Initiative".
Speaking at the ceremony marking the commencement of the programme in Oleh in Isoko South Local Government Area (LGA) of the state, she reiterated her commitment to restoring hope to the less privilege in the society.
"While in Eku last week, we were able to carry out 108 eye surgeries and we are working toward multiplying that figure here in Oleh.
"Our goal is to reach as many people as possible to ensure that the burden of visual impairment is reduced to the barest minimum.
"And that is why we keep appealing to our leaders to ensure they help bring their people so that they can access the services," she said.

She commended the Coordinator of the Restore Sight Africa Initiative, Dr. Ernest Ogbedo for partnering with the "O5 Initiative" to extend eye care services to the grassroots.
"We are not paying Ogbedo for what he is doing, but he has remained committed to selfless service across the entire state, at the expense of his own comfort," she said.
The wife of the governor also used the opportunity to call for action towards COVID-19 vaccination.
"We are still calling on everyone to get COVID-19 vaccine to protect himself from the virus.
"Even if you do not want to get the vaccine, do not discourage others from getting it by spreading false rumours," she said.
The state Commissioner for health, Dr. Mordi Ononye, commended the wife of the governor for her strides while pledging the commitment of his ministry to the health of the people of the state.
The Chairman, Isoko South local council, Mr. Victor Asasa, who spoke at the event, commended the wife of the governor for the initiative.
"Service to humanity is service to God, Mrs Okowa has been so kind to the people and we are very grateful," he said
The Coordinator of Restore Sight Africa Initiative, Dr. Ernest Ogbedo, also lauded the wife of the governor on the initiative.
"There is no state in Nigeria that does eye care in this magnitude. While we move about our daily activities even in our places of abode, we encounter beneficiaries whose stories have changed."
According to him, the four-day free eye care outreach, covers all the eight LGAs under the Delta South.
He explained that correctional glasses and eye drops were dispensed and surgeries carried out on patients who needed such.
The News Agency of Nigeria (NAN) reports that the outreach programme is taking place as the world celebrates the World Sight Week, targeted at creating awareness on eye care and wellness. (NAN)