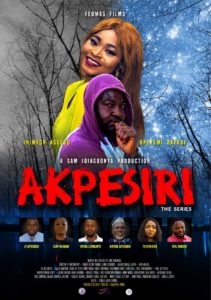 "After living a life marked by coldness, a geneticist learns from her mysterious creation about the true nature of her reality and her role in crimes against her community"
Akpesiri, which is set to be released later in 2020 by Fedmas Films Studio, is a dramatic conspiracy thriller, created by Sam Idiagbonya and a wonderful cast of Inimfon Asuquo (Thelma Okorodua), Opeyemi Bayode (Femi Opadele), Zenitha Bada (Brenda Okorodua), JesuTofunmi Aiyebusi (Jide Opadele), Ayodeji Omojoye (Pascal Ejele) Kayode Aiyegbusi (Rev. Williams) Tutu Regina (Okiemute Esara), and Apel Orduen (Bryan Agaba) among others. The story exploits the usual topic of character crises and crime but uncovers a deep hidden conflict of the personality feeling oppressed within the limits of the normal life and the society, which uses a wide range of tools to make one behave in the correct way.
Fedmas films Studio managed by Barr. Oluwafunmilayo Idiagbonya prides themselves inhaving the capacity to fully model a project using recent technology, regardless of the scope. They have in their kitty, highly experienced movie makers, who understands the discipline and the essence of excellence, teamwork, and exceptional creativity. They are saddled with enlightening information, innovative Inspiration and Exceptional entertainment.
Their quest for excellence and passion to re-write the Nigerian stories birthed the Movie Series – Akpesiri.

Written and Directed by Sam Idiagbonya,
Director of Photography – Ochuko Justin Thomas who also doubles as the Head of Production (HoP).
Sound Recordist – Lugard Osheku,
Gaffer – John Anijesu,
Set Designers –  Olajide Kawonise, Itoro Joy Peter, Omar Nwosu.
Digital Interphase Technician /Script Supervisor / Still Photographer – Itoro Joy Peter,
Making/Camera Man 2 – Joshua   Okposio,
Boom Operator – Omojoye Ayodeji,
Unit Production Manager; Omar Nwosu,
Makeup/Make Over Artist – Folashade Isedun,
Welfare – Abosede Abanida,
Best Boy – Arinze Ogbuji,
Key Grip – John Friday,
Production Logistics –  Ayodeji Joseph,
Lead Editor – Ochuko Justin Thomas,
Producer/Executive Producer – Idiagbonya Samuel.

The Series Spans 26 Episodes per season. The Story span's 10 seasons.