Like him or hate him, Chief Timipre Sylva is a game-changer, and admirable politician, an influential political leader who command a passionate followership among ordinary people and pedestrian bayelsa Masses and Nigerians at large.
A leader chosen by God inspite of his human frailty and touted personal short comings, a thoroughbred, extremely simplistic yet overtly charismatic leader with the magic wand and electoral victory. A lettered entity and an enviable public speaker.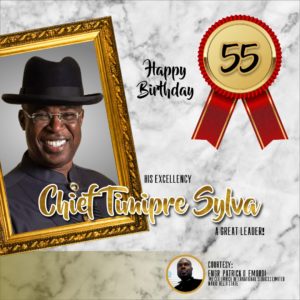 Happy 55th birthday to a great leader, a man of honor and peace and one that has brought so much joy and hope to bayelsans. His life bears eloquent testimony to God's extra-ordinary capacity to bring anyone from dregs of grace to the garment of grace. Timipre Silver is a sole testament to the axiom that irrespective of the common man's pedigree, parentage, academic qualifications, institutions attended, travails and turmoil, our dreams are valid! He has proven as a dogged fighter, that with dedication, sense of duty, commitment, sense of directiom, responsibility, empathy and God's grace, nothing is impossible.
Timipre Sylva (born July 7, 1964) was the Governor of Bayelsa State in southern Nigeria.
Sylva was born in Brass, Bayelsa (formerly Rivers State, of which Bayelsa State was split off from in 1996), and was educated there and in Lagos, the former capital of Nigeria. He was a member of the Rivers State House of Assembly in the 1990s.
As a candidate of the People's Democratic Party Sylva won the Bayelsan gubernatorial election on May 29, 2007 and succeeded Goodluck Jonathan who went on to the position of Vice President. During his inauguration he said that Bayelsa was "the least developed industrially and commercially" of all 36 states.
Sylva is a prodigy in enviable contradiction and a leveler to the core. He is a reformed true Nigerian, a Pan-Africanist, an emerging nationalist and a chronic reformer who believes in egalitarianism and loathes academic racism. He identifies the vagaries of conspiracy theorists and finds constructive criticisms meaningful.
He never hesitates to show his open disdain for economic class segregation, he resents unmerited cheating, social class sentiments, inequality, inverted bigotry, crass misrule and the political barrenness prevalent in our polity. He is a radical Politician and an obfuscatory mystery to many. I can't exhaust tributes on him but I just wish him a very happy birthday celebration Many Happy returns my Leader.
Courtesy. Engr. Patrick O. Emordi (MD/CEO Emrick International Services Limited) – 66, Enerhrn Road EISL House, Warri Delta State. Km 2 D.S.C, Express Road. After Okpaka Junction, Udu L.G.A, Warri, Delta State
Emrick International Services Limited (EISL) was incorporated in 1996 to provide technical services, which include revamping of an existing oil well, flow stations, spillage control and clean-up, servicing of Emsco pumps, National Oil well pumps, sulzer pump (reciprocating pump), industrial and marine engines such as caterpillar, perkin, Waukesha, superior Engine, E.M.D, cumin and sales of genuine engine parts.
They also undertake the maintenance, trouble shooting of gas compression station, Instrumentation works, which includes but not limited to setting and calibration of flow, temperature, pressure, switches, controllers – recorders, timers and trip amplifiers.
The company has diversified into civil/building engineering services.